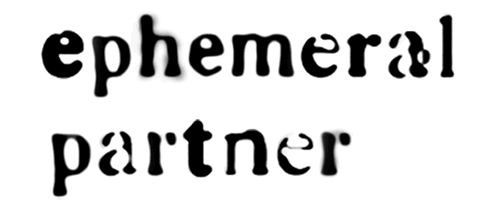 art about relationship with 
the more-than-human world
Exhibiting at iMPeRFeCT Gallery
5539 Germantown Ave. Philadelphia, PA 19144  imperfectgallery.com
Duration: March 10 – April 15, 2023
Opening: Sat. March 10, 5:30-8:30pm
followed by a Rumba (Afro Cuban Jam)
Free and Open to the Public:
Thursdays 1 – 5p;  Fridays 4 – 8p;  Saturdays 1 – 5pm.
Description:
A nature-themed group art show at iMPeRFeCT Gallery, a small nonprofit alternative art gallery in Germantown, with a vibrant, diverse community at its many events. The artists of «ephemeral partner» question the notion of human mastery and dominion over the rest of the natural world, and imagine reverent ways of walking with each other and this planet.
Among other works, the artists have installed a plant-listening station; rendered old-master-style portraits of dogs and chickens; incorporated functional habitat for plants and animals into sculptures; found beauty as well as tragedy in an oil spill; sliced organic forms down the middle just as our state lines do to many watersheds; and supplied flags for trees as sovereign nations.
The robust event calendar reflects the exhibit's community-building ethos. We hope the show will help grow many mycorrhizal connections.
ARTISTS
Matt Coombs, Troy Gibbs-Brown, andrea haenggi + Mugwort, Jacob C. Hammes, Robert James Haskell, Pat Hickman, Sarah Hirzel, Ellie Irons, Erik Kramer, Vivian Lehrer, Erik Linton, Marley Massey, Lucia Monge, Chantelle Norton, Rosalind Nzinga, Alex Schechter, Elizabeth Shores, Matthew Speedy, Maria Stracke, Cindy Stockton Moore, Kristen Neville Taylor, Kately Towsley
ADDITIONAL EVENTS
Visit Website Calendar
for More Events & Details
Sat, March 11, 7:30p: Raji Malik Concert, & World Music Party w/ DJ Lina Luv. $25 suggested.

Wed, March 15, 7:30p:  ARTIST TALK Conversation with the artists
Sat, March 18, 8:00p: LIGHTWORKS Jazz & Soul Jam Session. Suggested Donation $10
Thu, March 23, 7:30p: The Eris Quartet, an Ohio based string quartet makes a stop in Philadelphia in their Spring 2023 Tour.  More info HERE.  $30 Admission
Sat, March 25, 8:00p: GROOVE & CHILL, renown DJ OLUWAFEMI returns to iMPeRFeCT to fill the evening with his groovy tunes, to which you'll surrender your body. Sweat will happen.
Mon, April 3,  7-9:30p:  DEAR NORA, Amazing songstress Katy Davidson from Portland OR, brings their brand of queer folk rock to Germantown with Birdie Busch and featuring a set from brand new Karl Blau fronted band Opal Eskar, for a night to remember.  Suggested Donation $15
Fri, April 7, 5:30-8p: Passover seder dinner – get tickets here.

    8p-12a: Rumba de cajon, with Santeria ritual (no RSVP for Rumba)
Sat. April 8, 6:30-7:30p: Activation of the art project Staging iNTiMaCY with Mugwort, an interactive performance by andea haenggi, plant Mugwort, and guests.

                 7:30p: Shawn Hennessey Concert. $25 suggested.
Sat. April 15 (Closing day), 11:30-1p: Anthotype workshop with Elizabeth Shores; create your own photograph made using locally-foraged photosensitive plants. 

      7:30p: Open mic/open floor hosted by Erik Kramer. All
creative forms, sign up at the door. $15 suggested.
[Nos]Otros / [Our]Others by Lucia Monge.
New Gallery Hours
Thu.   1 – 5pm
Fri.     4 – 8pm
Sat.   1 – 5pm
Or by appointment